Leading expert on China in Africa to deliver the Coca-Cola World Fund lecture at Yale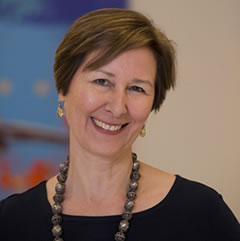 Tuesday, October 27, 2015
Deborah Bräutigam, a leading expert on China in Africa and the Bernard L. Schwartz Professor of International Political Economy at John Hopkins University, will give the annual Coca-Cola World Fund at Yale Lecture on Tuesday, Nov. 3.
The talk, "Will Africa Feed China? Rumors and Realities," will start at 4:30 p.m. in Henry R. Luce Hall auditorium at 34 Hillhouse Ave. in New Haven. The lecture, sponsored by the Whitney and Betty MacMillan Center for International and Area Studies, is free and open to the public.
Bräutigam, who directs of the International Development Program and the China Africa Research Initiative at Johns Hopkins's School of Advanced International Studies, is the author of The Dragon's Gift: The Real Story of China in Africa and Chinese Aid and African Development: Exporting Green Revolution. Her latest book — Will Africa Feed China? — sheds light on the contrast between realities, and the conventional wisdom, on Chinese agricultural investment in Africa. She is co-editor of Taxation and State-Building: Capacity and Consent, as well as numerous articles published in academic journals and public affairs media.
Bräutigam's teaching and research focus on international development strategies, governance, and foreign aid. She has twice won the Fulbright research award and has received fellowships from the Council on Foreign Relations and the Woodrow Wilson International Center for Scholars. She regularly advises international agencies and governments on China-Africa economic engagement.
The Coca-Cola World Fund at Yale was established in 1992 to support intersecting endeavors among specialists in international relations, international law, and the management of international enterprises and organizations. Previous lecturers in the series have included Michael Doyle, Gary Hart, Tom Friedman, Nicholas Kristof, Luis Moreno-Ocampo, Sam Nunn, Sadako Ogata, Samantha Power, Mary Robinson, Raghuram Rajan, Eboo Patel, Mo Ibrahim, Marwan Muasher, Raila Odinga, and John Githongo.