Rwandan President Paul Kagame to deliver Coca-Cola World Fund Lecture at Yale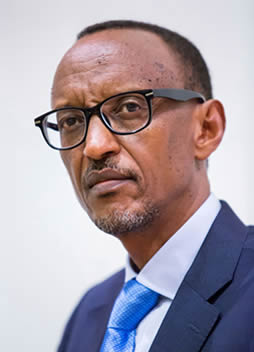 Paul Kagame, President of the Republic of Rwanda, will give the annual Coca-Cola World Fund Lecture at Yale on Tuesday, September 20.
His talk will start at 4:30 p.m. in Sheffield-Sterling-Strathcona Hall, 1 Prospect Street, Room 114, in New Haven. The lecture, sponsored by the Whitney and Betty MacMillan Center for International and Area Studies, is free and open to the public, but registration is required by September 19 at macmillan.yale.edu/kagame. (REGISTRATION IS CLOSED)
Paul Kagame was born in October 1957 in Rwanda's Southern Province. His family fled pre-independence ethnic persecution and violence in 1960, crossing into Uganda where Kagame spent thirty years as a refugee. Determined to resist oppressive regimes, as a young man, Paul Kagame joined current Ugandan President Yoweri Museveni and his group of guerrilla fighters to launch a war to free Uganda from dictatorship. Under the new government, he served as a senior military officer.
In 1990, Paul Kagame returned to Rwanda to lead the Rwandan Patriotic Front's (RPF) four-year struggle to liberate the country from the autocratic and divisive order established since independence. Led by Kagame, the Rwanda Patriotic Army defeated the genocidal government in July 1994 and the RPF subsequently set Rwanda on its current course towards reconciliation, nation building and socioeconomic development.
Paul Kagame was appointed Vice-President and Minister for Defense in the Government of National Unity on July 19, 1994, andfour years later was elected Chairman of the RPF, a partner in the Government of National Unity. On 22 April 2000 Paul Kagame took the oath of office as President of the Republic of Rwanda after being elected by the Transitional National Assembly. President Paul Kagame won the first ever democratic elections held in Rwanda in August 2003 and was re-elected to a second seven-year mandate in August 2010.
President Kagame has received recognition for his leadership in peace building and reconciliation, development, good governance, promotion of human rights and women's empowerment, and advancement of education and ICT (information and communications technology), and is widely sought after to address regional and international audiences on a range of issues including African development, leadership, and the potential of ICT as a dynamic industry, as well as an enabler for Africa's socioeconomic transformation. President Kagame served as chair of the U.N. Secretary General's Advisory Group on Millennium Development Goals from 2010 to 2015 and is the current co-chair of the International Telecommunications Union's Broadband Commission alongside Carlos Slim.
The Coca-Cola World Fund at Yale was established in 1992 to support intersecting endeavors among specialists in international relations, international law, and the management of international enterprises and organizations. Previous lecturers in the series have included Michael Doyle, Gary Hart, Tom Friedman, Nicholas Kristof, Luis Moreno-Ocampo, Sam Nunn, Sadako Ogata, Samantha Power, Mary Robinson, Raghuram Rajan, Eboo Patel, Mo Ibrahim, Marwan Muasher, Raila Odinga, John Githongo, and Deborah Brautigam.
Paul Kagame, President of the Republic of Rwanda, gave the annual Coca-Cola World Fund Lecture at Yale on Tuesday, September 20.