Yale University and WHO Launch Innovative Partnership to Scale Up Behavioural Sciences for Better Health Initiative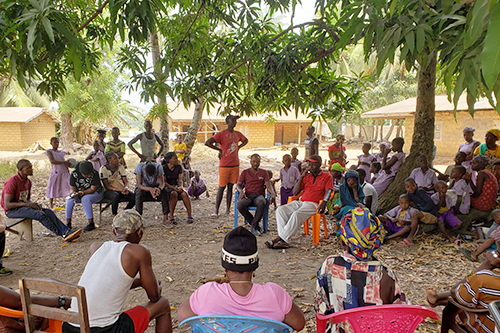 The Yale Research Initiative on Innovation and Scale (Y-RISE) and the World Health Organization's (WHO) Behavioural Insights Unit (BI-Unit) Announce Partnership to Promote, Design, and Scale Up Evidence-Based Behavioural Interventions in Public Health
The Yale Research Initiative on Innovation and Scale (Y-RISE) and the World Health Organization's (WHO) Behavioural Insights Unit (BI-Unit) have signed a Memorandum of Understanding agreeing to work together over the next two years to contribute to the shared goals of promoting and enabling systematic use of the behavioural and social sciences in public health, designing, and scaling up evidence-based behavioural interventions. Behavioural insights can help improve understanding on how and why people behave in ways that affect their health, and help design policies and services that address behavioural factors for improved physical and mental well-being.
 
WHO and Y-RISE will work together to respond to requests for technical support for the planning and design stage of pilot behavioural interventions as well as requests for examining complexities of scaling up behavioural interventions. They will also give strategic advice in the area of application of behavioural sciences to public health and capacity building.
"The pandemic brought into sharp focus the importance of understanding human behavioral complexities to design more effective public health programmes," said Mushfiq Mobarak, Y-RISE Founder and Faculty Director and Jerome Kasoff '54 Professor of Management and Economics at Yale.
"This MOU will permit Y-RISE and WHO to jointly respond to requests for analytical support to improve public health programming at scale."
Elena Altieri, Head, WHO Behavioural insights Unit, welcomed the partnership, adding,
"We are observing more and more interest and requests for support for the use of behavioural sciences from WHO colleagues and from counterparts in countries. Partnerships like the one with Y-RISE allow us to provide timely and relevant technical support and generate new insights.  They also help us to reduce the gap between practitioners and researchers, which is much needed for the mainstreaming of social and behavioural sciences into public health."  
Under the scope of this new partnership, Yale and WHO will:
·      exchange of information about latest advances in scaling of behavioural interventions;
·      lead collaborative projects to examine the impact of behavioural interventions in public health, including the complexities of scaling up such interventions;
·      jointly develop research proposals and presentations for stakeholders interested in applying behavioural science approaches to their programming; and
·      deliver joint trainings on the science of scaling up behavioural sciences in public health policies and programmes.
The Yale Research Initiative on Innovation and Scale (Y-RISE) at the MacMillan Center for International and Area Studies advances research on the effects of policy interventions when delivered at scale. Y-RISE identifies and tests promising policy interventions and, as they grow, conducts research on the challenges and implications of scale. In partnership with NGOs and governments, Y-RISE researchers progressively grow successful programs, devising and employing new techniques to measure the changes induced by scale. Y-RISE produces scholarship, guidance for policymakers, and in the process, facilitates large-scale implementation of tested programs. For more information, visit yrise.yale.edu.
***
Media Contacts:
Michelle Fielstra
Assistant Director of Communications
Yale MacMillan Center for International and Area Studies
Telephone: +1 203 432 0455
Email: michelle.fielstra@yale.edu
WHO Media Inquiries
Telephone: +41 22 791 2222
Email: mediainquiries@who.int