YIGH Announces Speakers for Spring Global Health Conversation Series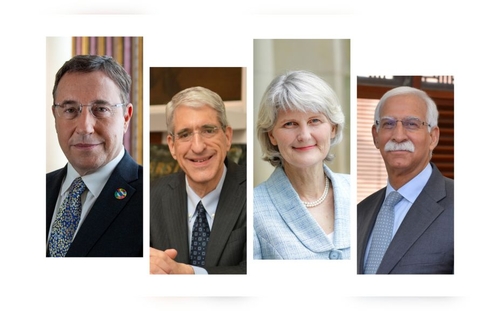 The Yale Institute for Global Health (YIGH) welcomes Achim Steiner, Administrator, UN Development Programme, as its first guest for their spring Conversation Series. Steiner will discuss Planet, People, and Prosperity on March 30, 4:00 – 5:00 PM. Steiner, who is also Vice-Chair of the UN Sustainable Development Group, has been a global leader on sustainable development, climate resilience and international cooperation for three decades. Environmental hazards influence a vast majority of communicable and non-communicable diseases worldwide. The discussion will focus on the scope and scale of human pressures on the planet; how social imbalances and inequality contribute planetary health problems; preparing for the next pandemic; and how to encourage policymakers and legislators domestically and globally to consider the impacts of planetary health and incentivize positive change and innovations domestically, regionally, and globally. Click here to register for this event.
For its second event in April, the YIGH Conversation Series will host three transformational leaders in higher education entitled Higher Education in a Post-COVID World: A Panel Discussion with University Presidents on April 14, 11:00AM – 12:00PM
Peter Salovey, President of Yale University and the Chris Argyris Professor of Psychology; Elizabeth Bradley, President of Vassar College; and Firoz Rasul, President, Aga Khan University will shed light on changes they made to ensure there was a healthy, safe atmosphere for students, staff and faculty on their campuses. They will also share their views on the impact the pandemic will have on the future of higher education and answer questions about the biggest challenges they faced during the pandemic; how the pandemic led to new innovations at their universities; and other efforts to work more cohesively within their schools and with their communities. Click here to register for this event.
"The YIGH Conversation Series was created to connect with audiences around the world and foster dialogue regarding the challenges facing global health and wellbeing," says Saad Omer, director of the Yale Institute for Global Health. "We are pleased to bring such distinguished experts to this platform and to bring accurate and relevant news to diverse populations through these discussions."
YIGH Conversation Series events are free and open to the public through Eventbrite registration and will also be streamed live on Facebook at https://www.facebook.com/yalesph/live.
The YIGH Conversation series is a moderated forum for the public to listen to and learn from some of today's pivotal decision-makers in the world of global health. Representing diverse areas of expertise, speakers address the latest in research, public policy, trailblazing programs, and more. Cosponsored by The George Herbert Walker, Jr. Lecture in International Studies at the Whitney and Betty MacMillan Center for International and Area Studies at Yale, the series is also is an opportunity to cultivate potential areas of collaboration with leading institutions in global health.
For more information on the YIGH Conversation Series contact Michael Skonieczny.