Ukrainian Doctors Receive Training at Yale; Inspire American Colleagues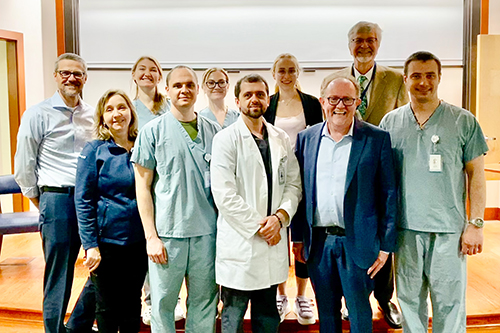 On April 24, six Ukrainian doctors who were invited to visit Yale for a month of intensive training sat on a panel to share their experiences of practicing medicine in their cities since Russia invaded their country in February 2022. The visit was organized by Doctors United for Ukraine, a non-profit incorporation of Yale medical professionals with Ukrainian roots. The doctors, who all live in regions of Ukraine under heavy bombardment, described delivering babies in basements by the light of cell phone screens and caring for soldiers and civilians with catastrophic injuries.
Yet in spite of the sobering reality of their situation, the doctors' reflections also conveyed their grit and courage.
"Life is going on," said Dr. Artem Chernov, an obstetrician and gynecologist at Kyiv Maternity Hospital #3, who described his initial shock at the start of the war, and his decision, along with his colleagues, not to flee, but to stay in Kyiv and work. He gave an example of the ongoing resilience of the Ukrainian people, more than a year into the war. "My wife is an obstetrician and gynecologist in reproductive medicine; these days, she has up to 20 patients per day who come for IVF and infertility treatment despite the war. So, life is going on. We must survive. And we must win."
"Thank you so much for doing this project for us," said Dr. Anna Masoodi, an anesthesiologist and intensive care doctor at Kyiv Regional Hospital, explaining that she will be able to implement what she has learned at Yale as she endeavors to give her patients the best possible care. "We believe the war will stop, and we will need to rebuild. That's why we have come here to study and to learn," she said. "We're trying to get as much as possible to a better future."
It was doctors from Yale's Schools of Medicine and Public Health, Andrey Zinchuk , Alla Vash-Margita, and Sten Vermund who approached the MacMillan Center for International and Area Studies with their novel idea of inviting Ukrainian intensive care physicians and OB-GYNs to train with them, not for a yearlong fellowship, but for an intensive month-long visit.
Steven Wilkinson, Director of the MacMillan Center for International and Area Studies, hopes that the successful pilot program will serve as a model for the future.
"This has been a terrific collaboration between doctors in Ukraine and physicians here at Yale, and we are proud to support it," Wilkinson said. "The MacMillan Center is Yale's focal point for the study of international issues, operating across all of Yale's different schools. For many years, we have supported bringing scholars and practitioners at risk to Yale from conflict zones.
We thought this was a great opportunity to be responsive to practitioners at risk and provide them with critical skills to bring back to their country immediately," he said. "The University recently announced a major initiative to expand its commitment to scholars and practitioners at risk over the next few years. I hope the success of this Doctors United for Ukraine program will spark more initiatives of this kind in the future."
Read more about the DU4U initiative at Yale
Read about DU4U's mental health training for Ukrainian clinicians in Poland
Read more about Yale University's response to the invasion of Ukraine