Zedillo Represents Yale Center for the Study of Globalization at two Global Forums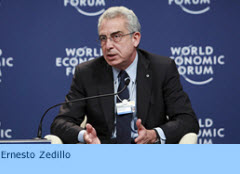 September 12, 2012. New Haven, CT — Ernesto Zedillo, director of the Yale Center for the Study of Globalization, will join with former U.N. general secretary Kofi Annan in London on Friday, Sept. 14, to launch "Deepening Democracy: a Strategy to Improve Elections Worldwide," the final report of the Global Commission on Elections, Democracy, and Security.
Annan, who is also former special envoy to Syria, chairs the commission; Zedillo is vice-chair.
The commission was formed by Annan in 2011 in order to develop recommendations for governments and international and regional organizations on how to promote and protect the integrity of electoral processes, which are fundamental to sustainable democracy. The 10- member commission includes leaders from Europe, Africa, North America, Asia, the Middle East, and Latin America.
In the spring, the commission hosted a workshop at the Yale Center for the Study of Globalization and invited Yale faculty to contribute to the process.
The launch of the report is the culmination of the commission's work. The document will be available in English, Spanish, French, Arabic, and Bahasa.
In addition to Annan and Zedillo, the launch at the Royal Society in London will include Nobel Peace Prize laureate Martti Ahtisaari; former president of Botswana, Festus Mogae; and former foreign minister of Indonesia, Hassan Wirajuda. It will be moderated by Lyse Doucet of the BBC. Diplomats, representatives of civil society, academics, policymakers, and members of the press will also be on hand. A live broadcast of the event will begin at 10 a.m. London time at www.global-commission.org.
On Sept. 11, Zedillo, in his role as director of the Yale Center for the Study of Globalization, made two major presentations at the World Economic Forum meeting in Tianjin, China, which this year was focused on the topic "Creating the Future Economy." The annual event, called the "Meeting of the New Champions," is also referred to as the "Summer Davos in Asia." China's Premier Wen Jiabao opened the meeting, which was attended by over 2,000.
Contact Information:
Marilyn Wilkes
The Whitney and Betty MacMillan Center for International and Area Studies at Yale
(203) 432-3413