To Support Accountability for Atrocities, Fix U.S. Law on the Sharing of Digital Evidence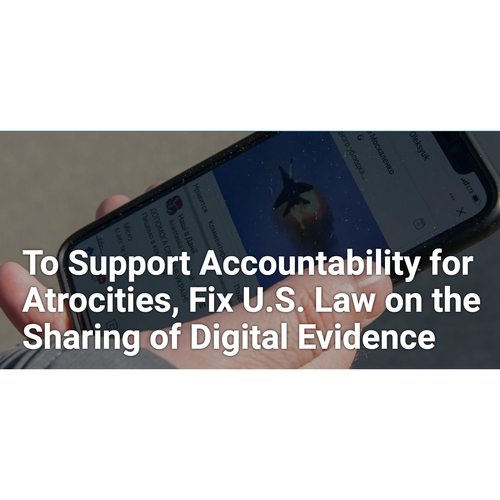 by David J. Simon and Joshua Lam
"It sure seems that way to me." That is how President Joe Biden supported his off-the-cuff comment that Russian atrocities in Ukraine amounted to genocide. A legal finding to that end, however, requires a substantially higher standard of proof (and to be fair, Biden also said that he would "let the lawyers decide"). The "effective accountability" that world leaders like U.N. Secretary-General António Guterres have called for begins with a thorough, rigorous, and independent investigation into allegations of genocide, war crimes, and crimes against humanity.
International justice mechanisms will insist upon unassailable evidence of the alleged atrocities. However, a vast amount of potential evidence in the form of photos and videos uploaded by Ukrainians on social media platforms is at risk or potentially unavailable to courts.
The risk arises from the loss of evidence due to the permanent removal of content deemed to have violated platforms' terms of service. Imagine, for example, that there existed a video placing a specific individual at the scene of a summary execution of Ukrainian civilians. This content and its accompanying metadata – which have proven crucial in debunking disinformation and documenting Russian atrocities in the war – would likely be invaluable evidence in a war crimes trial, but because it would be graphic in nature, platforms such as YouTube, TikTok, and Facebook would remove it for violating their Terms of Service. Furthermore, the vast majority of content removals are proactive – TikTok, for example, reported that 90.1% of removed videos in the fourth quarter of 2021 were taken down before receiving any views. While these measures uphold community norms and promote user safety, they can result in the loss of valuable potential evidence, hampering efforts by investigators to document war crimes and other atrocities.
Read the full article here: https://www.justsecurity.org/81182/to-support-accountability-for-atrocities-fix-u-s-law-on-the-sharing-of-digitial-evidence/