Visual Resources of the Middle East project created at Yale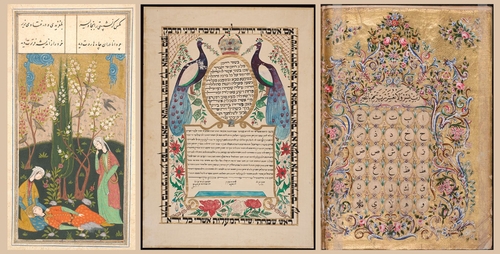 Yale University holds a wide array of images from the Middle East across its encyclopedic collections. The Visual Resources of the Middle East (VRME) project was created with the assistance of the Whitney and Betty MacMillan Center for International and Area Studies at Yale as a means to collect works of art, documentary photographs, and diverse objects from different libraries and galleries at Yale onto one platform, with the goal of introducing the materials to a diverse audience at and beyond Yale through free and open accessibility.
The project was initiated in 2018 by Kishwar Rizvi, Professor in the History of Art, with funding from a Title VI Grant from the U.S. Department of Education awarded to the Council on Middle East Studies at the MacMillan Center. Design development and metadata collection for the project was done by Alex Seggerman (PhD, 2014 and CMES post-doctoral fellow, 2018) and Dina Taha (MED, 2019), who amassed over 900 items from across collections for the initial launch in 2020. Lindsay King, Associate Director for Access and Research Services at the Haas Arts Library, was the liaison with Artstor who helped guide the project from its conception, and Maria Zapata, Technical Assistant at Haas, provided cataloging and uploading support.
"The VRME is a response to the many undergraduate and graduate students over the years who have benefitted from doing primary research on the arts and culture of the Middle East at Yale," said Professor Rizvi. "We wanted to learn more of what is on-site in it's remarkable library and museum collections, and to share these resources widely. Open access public collections, such as the VRME, point to the future of equitable knowledge sharing in a globalized world."
The VRME project website provides additional information about the different collections and links to the entire collection that is housed in Artstor's public collections. At present a highlights collection, the VRME will continue to grow as new material from across the university is catalogued and uploaded.
The archival holdings that the VRME project is focusing on are housed in the Yale University Art Gallery, the Yale Center for British Art, Beinecke Rare Book and Manuscript Library, Cushing/Whitney Medical Library, Sterling Memorial Library, the Peabody Museum of Natural History, and Lewis Walpole collection. The Yale University Art Gallery (YUAG) has manuscript paintings from early modern Iran and India, and strong holdings in textiles, ceramics, numismatics, photography and contemporary art. At the Yale Center for British Art and the Lewis Walpole Library 18th- and 19th- century highlights include paintings and objects that document the history of the Middle East, especially under colonial rule. Sterling Memorial Library offers visual resources from books and periodicals published in Persian, Arabic, and Turkish, while the Cushing/Whitney Medical Library houses numerous scientific manuscripts. Beinecke Library's renowned rare book and manuscript collections encompass resources from Safavid Shahnama manuscripts to 20th-century field photographs.