Christopher Andrew to discuss "The Lost History of Global Intelligence" at Yale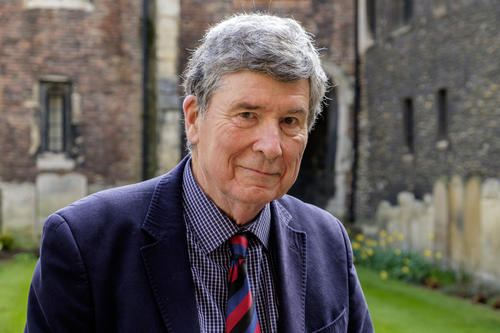 Christopher Andrew, touted as the doyen of intelligence historians, will give a series of three lectures in November on "The Lost History of Global Intelligence—and Why It Matters" for the Henry L. Stimson Lectures on World Affairs at the Whitney and Betty MacMillan Center for International and Area Studies at Yale.
"The Lost History of Global Intelligence—and Why It Matters" lectures will focus on three themes: "How the Lead Role in Strategic Intelligence Passed from Asia to the West" on November 5; "The Strange History of American-British Intelligence Relations: from George Washington to Donald J. Trump" on November 6; and "Russian Intelligence Operations and the West: from Tsar Nicholas II to Vladimir Putin" on November 8.
All three lectures begin at 4:30 p.m. in  Henry R. Luce Hall, Room 203, 34 Hillhouse Avenue. Sponsored by the Whitney and Betty MacMillan Center for International and Area Studies and the Yale University Press, the lectures are free and open to the public.
Christopher Andrew is an Emeritus Professor of Modern and Contemporary History at the University of Cambridge. He is the founder of the Cambridge Intelligence Seminar and founding co-editor of Intelligence and National Security. He is also chair of the British Intelligence Study Group and former Official Historian of the British Security Service, MI5. He is Honorary Professor at Queen's University, Belfast, and former Visiting Professor at Harvard University, University of Toronto, and University of Canberra. Professor Andrew's latest book, The Secret World: A History of Intelligence (Yale), analyses the period from Moses to Putin. His previous books on the use and abuse of intelligence have appeared on best-seller lists on four continents.
The funding for the lecture series comes from an anonymous donor, in honor of Henry L. Stimson, Yale College 1889, an attorney and statesman whose government service culminated with his tenure as secretary of war during World War II.
Since 1998, the MacMillan Center and the Yale University Press have collaborated to bring distinguished diplomats and foreign policy experts to the center to lecture on their books that are published by the Yale Press.
Previous Stimson Lectures have included "Political Order in Changing Societies" by Samuel P. Huntington; "Financial Crises in Emerging Markets" by Alexandre Lamfalussy; "Arms and Influence" by Thomas C. Schelling; "The Arab Center: The Promise of Moderation" by Ambassador Marwan Muasher; "Beyond the Democratic Maze" by John Dunn; "What Happened to National Liberation" by Michael Walzer; "The Imprint of Congress" by David Mayhew; "FDR's Third Hundred Days" by Susan Dunn; "Liberal Ideals & International Realities" by John J. Mearsheimer; and "America Confronts the Post-Imperial World" by William R. Polk.