"A Muslim in the Midst" addresses Islamophobia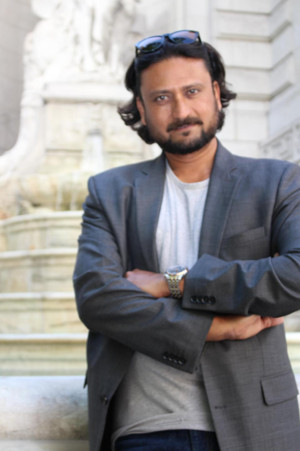 A Muslim in the Midst, written and directed by Anand Rao, was staged on September 8 at the Crescent Underground Theater in Morse College at Yale. Set in Bangalore, India, in the aftermath of 9/11, the play portrays the unexpected encounter of two couples. The simple but resilient Haneef Pasha (portrayed with élan by Ram Kanneganti) and his demure, yet steadfast wife, Shabana Pasha (played with grace and verve by Noreen Quadir), are newly-arrived poor, Muslim migrants to the city from rural India. The world-weary and conflict-averse Raj Sunder (Jay Nambiar is in his element here) and the self-confident and high-minded Priya Sunder (Dipti Mehta delivers an impassioned performance) are an upper-middle class Hindu couple who take pity on the Pashas and decide to give them a ride to their final destination in the city.
"In the car, the conversation breaks down," Rao tells the MacMillan Center in an interview a few hours before the show. "It takes a rather unexpected turn. The ideologies and worldviews of our protagonists come into direct conflict. The play depicts them struggling to find common ground due to their very obvious religious, socio-economic, and psychological differences." The play draws out the cleavages of language, class, religion, and gender that have become part and parcel of Indian social life. "These divisions are here to stay, unfortunately," Rao says ruefully. "They are never going away."
A Muslim in the Midst has only one act. "It's continuous action for ninety minutes," Rao is eager to point out. "But there isn't much of physical action. The length of the story is the length of the play. It's a journey from point A to point B of four people and we try to draw the audience in. The actors are stuck in a car and all attention is focused on the car, which defies conventional dramatic and narrative structure." The intimate setting of the Crescent Underground Theater adds to the feeling of immersion. Rao hand-picked the theater on an earlier visit to Yale. "It's a lovely space, ideal for such a conversation-heavy play."
The play was inspired by a real-life experience Rao had in Bangalore. "I received the inspiration for this story when I impulsively offered a ride to a couple sitting by the road. In hindsight, I kept thinking about all the different ways that could have gone wrong," says Rao. "However, I highlight the word inspiration. Because inspiration ended when imagination took over."
Part of this imagination is the political and economic context Rao is able to construct, which amplifies the scope of the play. "It is set three days after 9/11. I set it then because I believe many generations from now we will look back on it as one of the defining moments of modern history. Not just for America but for the whole world." The global anti-Islamic sentiment produced in that moment is an essential thread in Rao's narrative. However, he also wants to call attention to the many other ways in which 9/11 affected the lives of people around the world, from political opportunism to economic anxieties. "We are scared of ghosts because we have never seen one. So, one of the things this play very strongly propounds is that if you get to know something you are not going to be scared of it."
There is a particularly tense moment near the end of A Muslim in the Midst. Haneef has momentarily lost his cool. He lashes out at Shabana while Priya and Raj, shocked, retreat to the other end of the stage. The audience is caught off guard. The air hangs heavy till Shabana's voice pierces the silence. The tension slowly subsides. But there is an inescapable feeling that the damage has been done.
It is a testament to Rao's writing, and also the sign of our times, that this moment on stage evokes both pathos and familiarity. While it has been billed as a play where the protagonists discover a common fellowship based on humanity, A Muslim in the Midst is in reality a morally ambiguous drama. "It is a story that ends with a question," Rao says. "We are dealing with an issue where there is no definite answer. That's absolutely clear in my mind."
First conceived as a short story, a big part of the play's appeal comes from the many layers of social complexity Rao is able to peel away to reveal the ambivalent nature of modern social life. We want to be good Samaritans yet we cannot overcome our prejudices towards the other. We want others to see from our perspective but we do not necessarily want to change our own. "How far are we willing to go to accept somebody completely different from us as an intellectual equal? That's the question the play is trying to answer."
The moral ambivalence is a necessary part of the play's narrative force. "It's less about social difference, and more about how much we are willing to let others into our lives." It is no surprise to Rao that A Muslim in the Midst might confirm social biases. "The play does not take sides. It's very neutral. Because of that, what you believe in your heart will be the conclusion you draw. I've had people both from the right and the left come and tell me how relevant they found the play."
Rao reiterates that he is not seeking to provide any kind of solution. "I don't think there can be a resolution for these schisms through the dramatic medium. Anyone who tries to offer it is only lying to themselves." Lest we forget this important message, A Muslim in the Midst repeatedly injects us with doubt, testing the resolve not only of the protagonists on stage but also the viewer who has by then been reeled in.
At the talkback after the performance between the audience and the actors Rao wants to underscore that the play tries to portray much more than the social prevalence of Islamophobia. "This is definitely not an American story. It's definitely not a story about someone trying to escape their religion. It's a story about real people on the street in India as we might encounter them."
Yet the backdrop of 9/11, and the subsequent wars in Afghanistan and Iraq, supply A Muslim in the Midst with a remarkably receptive audience in America. But it's an audience that may also distill the complexities of this multi-layered drama into merely a cultural encounter. "I considered changing Raj and Priya into Roger and Penny, two Americans who try to help Haneef and Shabana," Rao tells us. "But then it would absolutely lose its original resonance. It would become a story about American Islamophobia."
It has been a long journey for Rao. Growing up in Bangalore, he spent his formative years studying the arts, and had a career in copywriting at an advertising agency and then in print and broadcast journalism. He moved to public relations and communications, and finally back to school for an MBA in Salt Lake City, which led to a career as a management consultant. But writing and acting remained his calling. "In the corporate world I always felt restless," Rao admits. "I finally decided to put my consulting practice on hold and write full time."
Rao finished writing the play in late 2015 and had a public reading in March 2016 in New York. The play opened in New York on the fifteenth anniversary of 9/11. "Of course, it has gone through many changes in that time." He is hopeful the play becomes a commercial success. "I would like it if we got a commercial run of 25 days in one venue. But that's what every playwright and producer wants. Right now, it appears to be getting a lot of attention in academic circles, like here at Yale, from those who are interested in the subject of inclusion and diversity." But Rao's drama certainly deserves a wider audience.
Anand Rao and his cast and crew were invited to Yale by the Chaplain's Office and sponsored by the Whitney and Betty MacMillan Center for International and Area Studies at Yale and its South Asian Studies Council and the Council on Middle East Studies.  Additional support came from the Center for the Study of Race, Indigeneity, and Transnational Migration; the Office of International Students and Scholars, and the Asian American Cultural Center. For more information, visit: https://www.amusliminthemidst.com/
---
Written by Anurag Sinha, a Yale graduate student in the department of political science.